Congratulations, you're pregnant! When you first received your pregnancy news, the thought that you're finally entering the next phase of life with your partner and having a little bundle of joy running around the house overwhelms you with elation and bliss.
However, the reality starts to set in that the costs of giving birth and raising a child is not as easy as it seems. To prepare you for the financial responsibilities to come, here is a breakdown of the costs of delivering a baby in Singapore.
Pre-Natal
Throughout your pregnancy, it is required for you to visit the gynecologist regularly for checkups and monitoring of your baby's growth. Generally, screening and diagnostic tests (e.g. blood and urine test, ultrasound scan) would be conducted during your visits. Medication and pre-natal vitamins may also be prescribed to keep you and your baby healthy. Based on the recommended dosage of Folic acid (400 micrograms), Iron (27 milligrams) and Calcium (1000 milligrams) per day, these supplements would cost around $470.
Tests like First Trimester Screening which includes an ultrasound scan and a maternal blood test would be done between 9 weeks to 13 weeks of pregnancy. It would cost about $200 – $350 after government subsidies. There are also tests for your second and third trimester such as the Harmony test which is DNA-based blood test that screens for risks of chromosomal abnormality trisomy 21 (Down syndrome), trisomy 18 (Edwards syndrome) and trisomy 13 (Patau syndrome). Such tests would set you back at about $1,000 – $1,400.
After the 3rd month of pregnancy, gynecologists may offer various packages which starts from $1,000 onwards. Packages such as the Antenatal Package include consultations and Obstetric scans which would help to settle most of the pre-delivery costs. Instead of spending on individual consultation fees per visit, the package would generally offer a better rate for pre-delivery costs incurred that are within the package's coverage.
Delivery
Costs before delivery would mostly be settled if you have purchased any pre-natal packages. However, you would need to fork out more money when it's time for delivery. Whether you're delivering in a private or public hospital, rates are charged differently according to the quality of your stay (in terms of classes/wards). Furthermore, prices would vary between natural birth and Caesarian section (C-section). While natural birth is much cheaper than C-section, some mothers would opt for C-section due to lower level of pain or inability to delivery naturally.
The average length of stay would be 2 days and above, depending on your condition and procedure for delivery. For C-section delivery, a longer stay is required and would cause a heftier bill.
Public hospital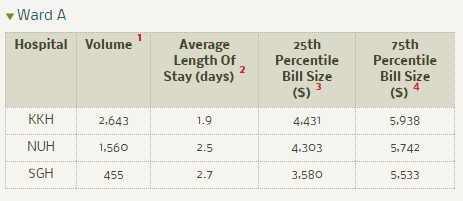 Based on MOH's report regarding hospital charges for normal delivery, average bill size for wards in Class A would cost you approximately $4,100. For cheaper options, you can choose to admit into wards in Class B1 to C where bill sizes range from $900 – $2,800. Be prepared to face a costlier bill if you prefer more privacy or an environment that is more comfortable for you to recuperate.
Private hospital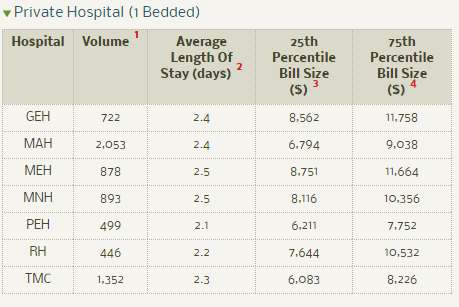 If you're more inclined towards staying in a private hospital, 1-bedded wards would set you back at $7,500. There are definitely cheaper options where you can choose to stay in a 2 or 4-bedded wards where costs are at $4,300 – $5,500.
Post-natal
Even after giving birth to your little one, your financial costs continue to snowball. When your child is delivered, you would need to pay for a paediatrician to look after him or her. Moreover, a compulsory immunization against diphtheria and measles is needed for your child. While such vaccinations would be free at polyclinics, other vaccinations against diseases such as chicken pox would be chargeable from $70 – 450. Such vaccinations are available at polyclinics, as well as private and public hospitals. For private hospitals, immunization packages are offered at $800 onwards
Another point to note is that if you have undergone C-section, bills would be higher as wounds would need to be monitored and nursed regularly. Postnatal care such as stitching demands more consultation and treatment fees.
Maternity Insurance
Complications of pregnancy are unpredictable and can occur at any moment during the pregnancy. Such complications could result in an immense amount of financial costs and responsibilities that you and your partner must face.
To lessen your load and defray such costs, you can purchase a maternity insurance plan with comprehensive coverages for costs incurred in the span of your pregnancy. Maternity insurance plans would help you with budgeting your financial costs for the birth of your child as you'll only be paying premiums for a limited period of time.
Your Trusted Adviser Pte Ltd (YTA) features maternity insurance packages offered by their trusted professional insurance provider and helps you find a plan tailored to your insurance needs. Maternity benefits offered by the insurance packages include antenatal care such as ultrasound scans, hospital charges, and post-natal care required by mother immediately after normal childbirth such as stitching. Costs incurred by C-section delivery and treatment fees incurred from pregnancy complications would also be covered under the insurance premiums.
It is important to note that maternity insurance policies featured by YTA have a waiting period of 10 months. This means that you would be able to enjoy your maternity benefits only after being a member of their maternity plan for at least 10 months. This is the same with other insurance companies where waiting periods are 10 to 12 months. Thus, it is recommended that plans are purchased before the child is conceived, so that protection is in effect for the whole pregnancy.
Click here for more detailed information regarding YTA's maternity insurance packages.
Published on 20 Jul 2017